Our engineering team has been working hard at this brand new feature and we are happy to announce that it is now available to all users. Starting today, you have the ability to take all of your inkFrog library listings and publish them to your Shopify store!
Here's how you do it!
Step One - Link Your Shopify Store
This feature requires a Shopify store to be connected to your inkFrog account. Connecting a Shopify account is easy, simply click on Apps > Channel connector: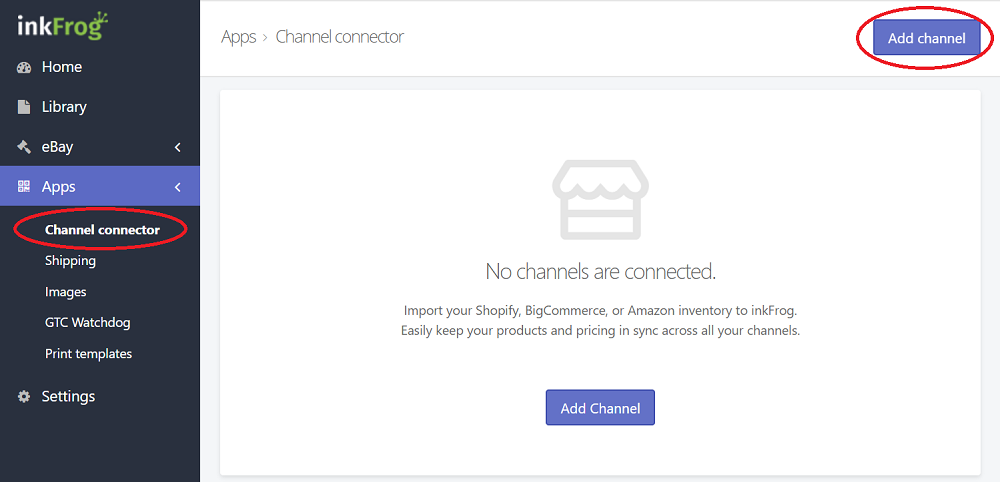 Then click on the Add channel button and go through the connection process: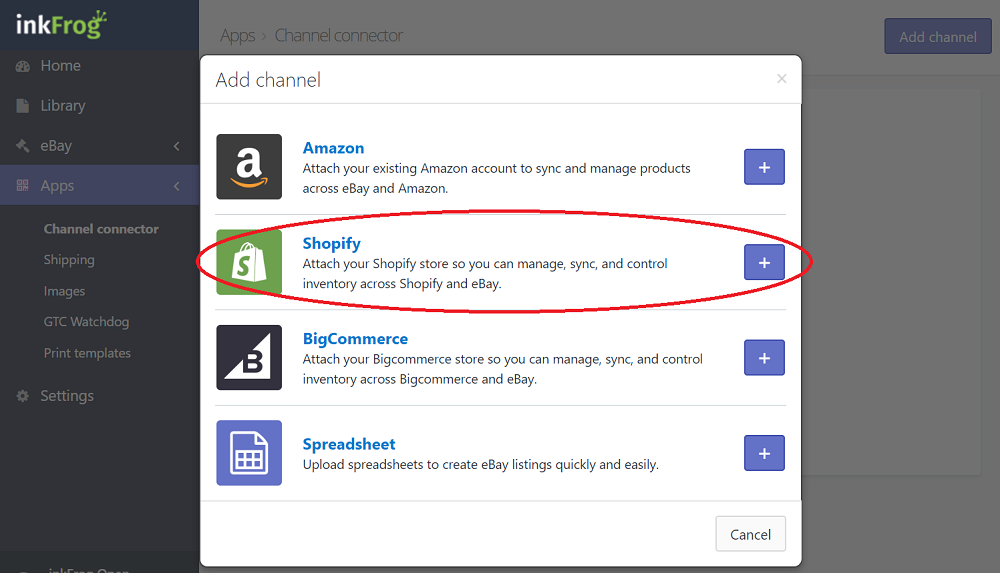 Step Two - Configure Your Sync Settings
This only takes a moment, but you want to verify that the sync settings for the eBay to Shopify export tool are working the way you want. Go back to Apps > Channel connector: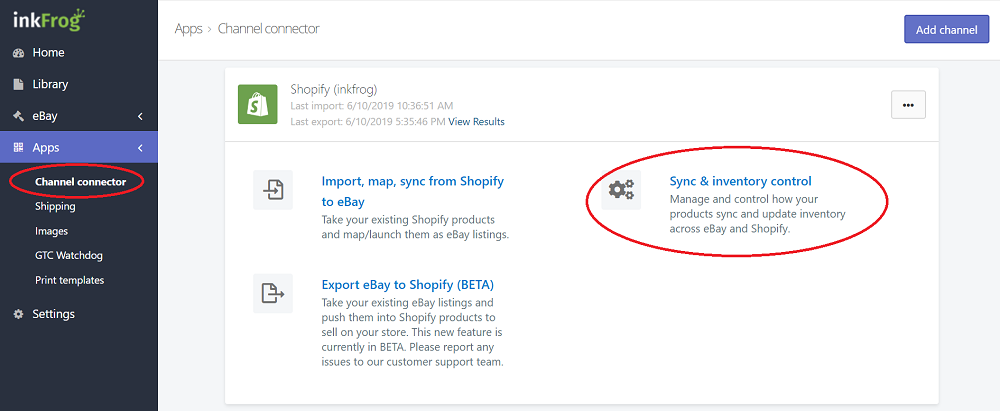 On the channel connector page, click onto Sync & Inventory Control to access your sync settings for the Shopify store connection: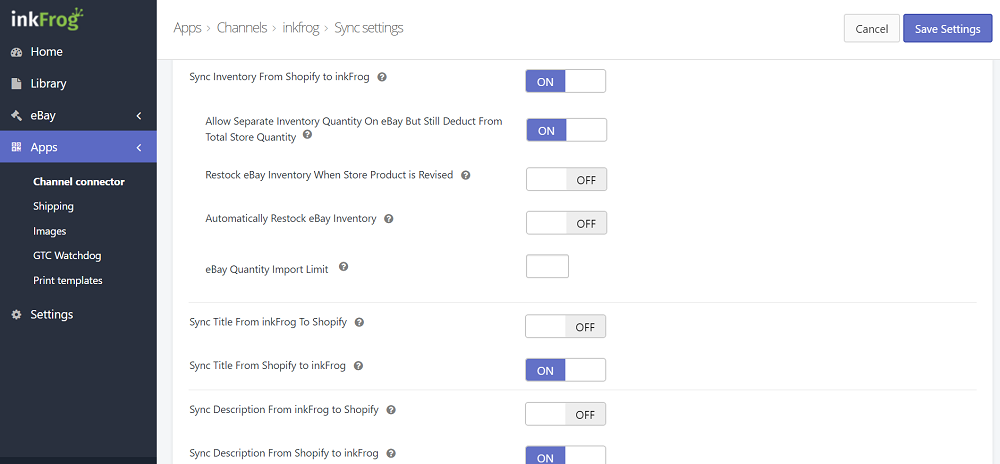 Take a few moments to review how the settings are configured and change them to what suits your business and then click the Save Settings button.
Step Three - Run the eBay to Shopify Exporter
Go back to the Channel connector page like you did in previous steps, however this time you are going to click onto the Export eBay to Shopify button: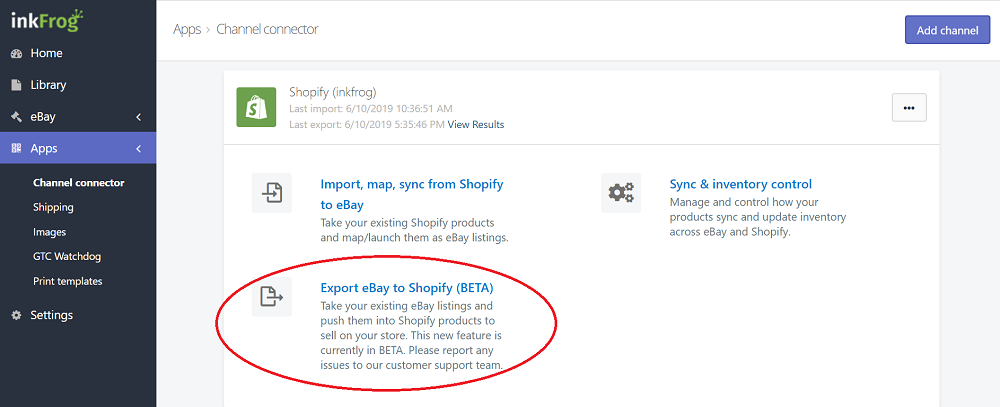 You will then be asked which products you want to export from eBay to Shopify. By default it will want to export all of your listings, however you have the option to specify if you only want certain products to be exported to Shopify:

Let's say, for example, that we only wanted to export a cat scratch stand that we are selling. We select that specific product instead of all of them and then click on the Next button: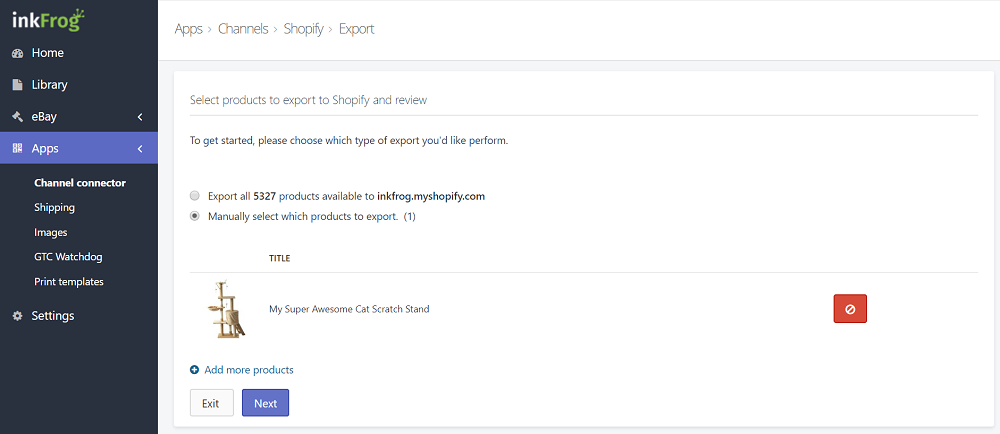 inkFrog will scan the eBay listing(s) you selected to make sure there are no problems with them before exporting them to your Shopify store. If there is a problem it will advise you of what needs to be done, otherwise you should see a screen like this which means everything is good and ready to go, simply click the Export button in the top-right corner:

When you click that export button, we will send your eBay listing to Shopify. You will see a loading screen like this, simply wait for it to complete:

When it has finished the transfer, you will get a confirmation page showing all of the products you exported and confirming it worked:

Your product(s) are now listed in Shopify, if you go to your Products page in Shopify you will see it: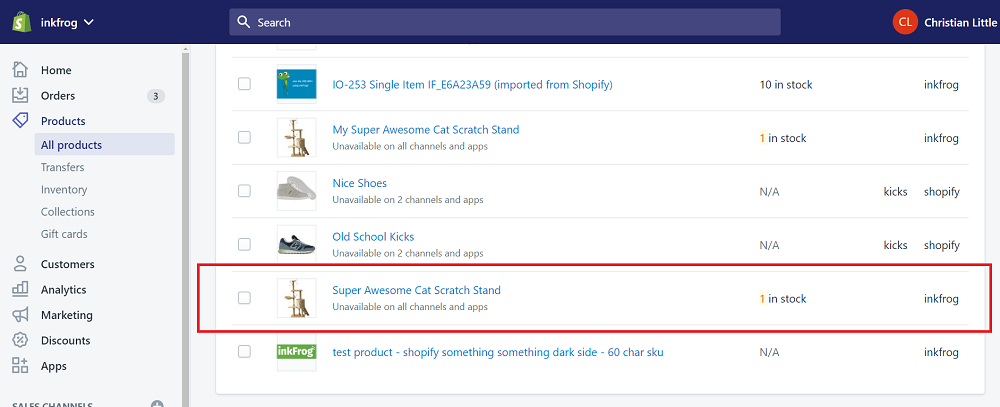 You aren't quite done yet. By default, Shopify sets them to not appear in your Online Store. You need to edit the product in Shopify and check the Online Store box in the item details: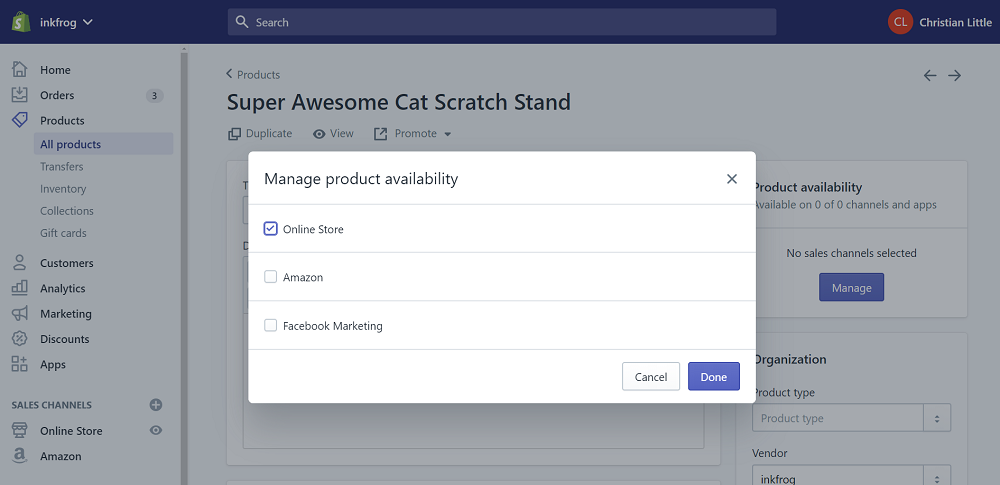 Congratulations! Your product has been exported from eBay to Shopify and is now available for sale on your website. When an order is placed on your Shopify store for the item, we will automatically download the order details and bring them into inkFrog just like we do with everything else!
Want tips + tricks?
Join the Newsletter