So you want to start selling on eBay. Or you're already selling on eBay, but you want to be more successful. Or maybe you're selling on another ecommerce platform (or platforms) or have your own website. Wherever you are in your ecommerce journey, inkFrog can help you with selling on eBay and more.
Selling on eBay isn't rocket science, but you do need to know some basic procedures and best practices. Start small: Look around your house, check your closets, and pick out a few unneeded or unwanted items that will be easy to ship and not too pricey.
For example, CDs and DVDs, brand-name NWT (new with tags) or gently worn clothing, toys, jewelry, and collectibles all sell well on eBay. Don't select anything that's of sentimental value; the less emotional attachment you have to these first items, the better. They shouldn't have a very high monetary value, either, or be very large, fragile, or heavy.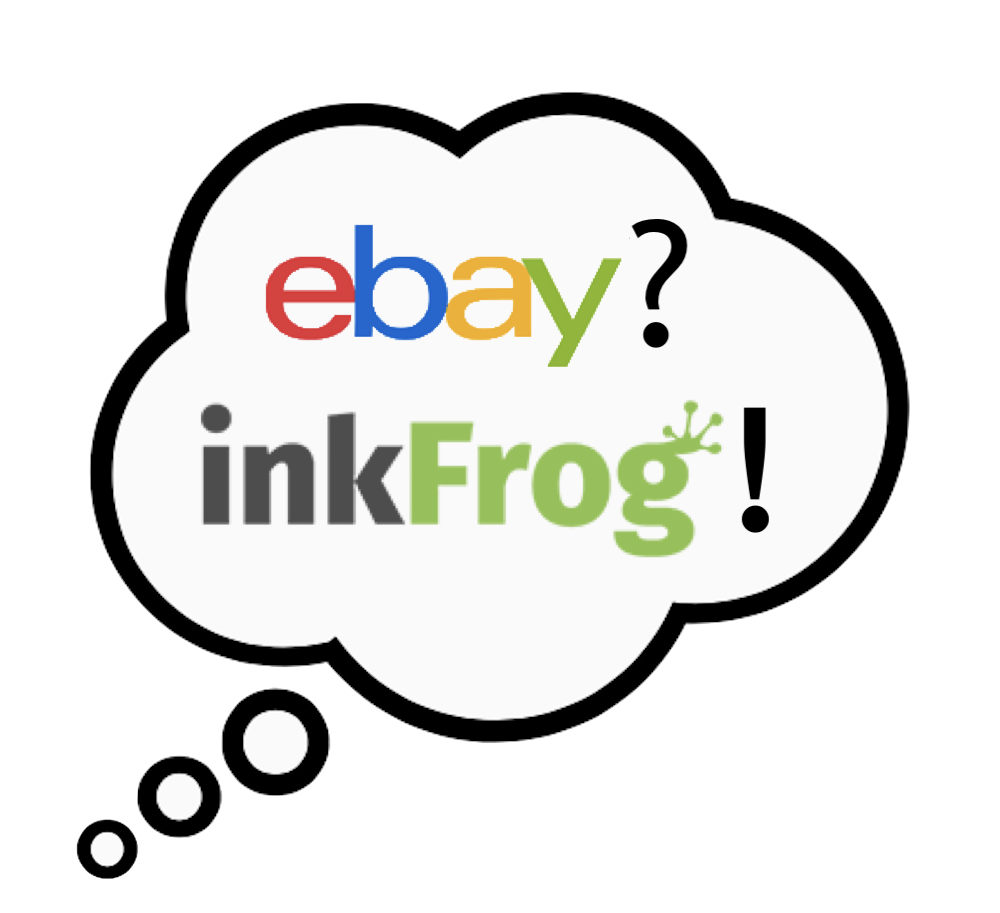 First, Learn to Think Like a Buyer
Now you're almost ready to start selling on eBay. If you're an experienced eBay shopper, you can skip this next step. But if not, then you need to do a little homework by buying a few things on eBay. Doing so will give you a feel for how transactions work as well as firsthand experience in the most important aspect of selling on eBay: thinking like a buyer.
Browsing on eBay will also familiarize you with how listings are laid out and help you understand why certain best practices are key to successfully selling on eBay.
Use the Best Tool for the Job
Now you're ready to start selling on eBay. eBay offers two Sell Your Item (SYI) forms: short form, for casual sellers, and the advanced SYI form, which offers a more robust set of options. However, you would be wise to consider using a third-party listing tool such as inkFrog right from the start.
That's because when it comes to selling on eBay, inkFrog offers distinct advantages over eBay's own listing tool or those from other third-party providers. Here are some of the features that make inkFrog the listing service most often used for selling on eBay:
A simple, intuitive one-page listing form
Auto-suggest and auto-fill for products matching eBay's catalog
Professionally designed, mobile-friendly listing templates
Free scheduled listings (eBay charges for this service)
Automated order management
Integration with eBay's My Messages
Your own listings library, with archived copies of all your listings
Most third-party providers offer a free trial (inkFrog gives you 14 days), so don't hesitate to shop around and figure out which selling software works best for you.
Every Picture Tells a Story
Whatever listing tool you choose, you're going to need photographs of your items. Nowadays, you can even use your smartphone camera. However, you'll need a macro lens to shoot super-closeups of small items such as jewelry.
Best practice is to take high-resolution square photos on a plain white background. For everything else you need to know, go to eBay's Photo Center at ebay.com/PhotoCenter. You can also download eBay's free Photo Center Guide featuring top tips for taking great pics.
eBay's photo uploader has built-in editing tools for cropping, brightening, and adjusting contrast. But eBay's image hosting expires after 90 days; at that point, your listing disappears from the site, along with its photos. By contrast, inkFrog will host your photos for free and keep them on file for as long as you like.
To Bid, or Not to Bid?
Once you've photographed your first item, you're ready to start selling on eBay. But you've still got a few details to hash out:
Choose a listing format: auction or fixed price
Decide on your terms of service
Set a price for your item
Determine the best way(s) to ship it
Auctions work best for items with no set market value. For the most part, you're better off using the fixed price format (Buy It Now). If you've got some wiggle room in the price, add eBay's Best Offer option.
It's All About the Buyer
Terms of service are very important when selling on eBay. Make yours customer-centric. inkFrog makes it easy to set up and revise business policies across all of your listings.
Plan to ship quickly and offer a reasonable return policy. Buyers love free shipping, so consider rolling the shipping cost into your item's price. You can estimate postage via the eBay Shipping Calculator at ebay.com/ShippingCalculator.
USPS is generally the most cost-effective carrier; use First Class Mail for items weighing up to 15.99 ounces and Priority Mail for items weighing 1 pound or more.
As for setting a price, use eBay's Advanced Search tool to check sold prices for items like yours. This will also help you to find effective keywords to use in your listing's title.
Doing the Write Thing
Writing effective titles is crucial to successfully selling on eBay. You've got 80 characters; use at least 75 of them. Think Keyword Keyword Keyword — the terms buyers use when searching for your item. Don't use punctuation, special characters, or ALL CAPS, and don't waste characters on meaningless words like Wow or L@@K.
Word order is important, too. Start with the brand name (if any); next, "the noun" (what the item is); then attributes such as material, size, style, model, color, gender, etc. Capitalize the first letter of each word. For example:
Hanes T Shirt Ladies Size Medium M Cotton V Neck Royal Blue Short Sleeve NWT
Be Specific
eBay's search engine will use the keywords in your listing's title to surface it to buyers. However, shoppers can refine their searches using various filters. These secondary keywords (attributes) are spelled out in your listing's item specifics, so be sure you fill these out in full. Use one of eBay's default options whenever possible. Then add custom item specifics for any additional details, such as dimensions.
inkFrog makes this super-easy by letting you know if your item matches a product in eBay's catalog, then automatically pre-filling your listing's fields.
Next, write a clear, concise description of your item. Think bullet points. You can format your listing using eBay's RichText editor, but keep it simple. Use one font and a single color for your text, and align it to the left. Centered text is hard to read.
Better yet, use one of inkFrog's designer templates to brand your listings and help them stand out from the crowd. They'll look equally sharp on a desktop, laptop, or mobile device.
Score a Store
Once you've got 25 or so listings posted and a few sales under your belt, you'll want to up-level your selling on eBay with an eBay Store subscription. This will help you brand your business. You can even buy your store's domain name (e.g., YourEbayStoreName.com) and use that URL to direct traffic to your eBay store's home page.
eBay Store subscribers get discounts on final value fees as well as access to built-in seller tools for marketing and promoting your listings, creating sale events, and much more. You'll also receive a quarterly coupon for up to $50 worth of eBay-branded shipping supplies. Read up on all the benefits of an eBay Store subscription at ebay.com/stores.
It'll Grow on You
By the time you're ready to open a store, you've probably mastered the basics of selling on eBay. Now it's time to find a hot niche and start growing your business! That's when you'll really be glad you used inkFrog from the get-go. With 5 tiered monthly plans, inkFrog is designed to help you grow — and to grow right along with you.

Want tips + tricks?
Join the Newsletter