When it comes to scaling your business, you've got to learn to delegate. Every entrepreneur knows the headaches that come from wearing too many hats; as the old saying goes, "If you want to grow, you've got to let go."

You can delegate in two directions: by hiring in-house help, or by outsourcing. The most successful businesses do both. And in the case of ecommerce businesses, the first thing that gets delegated is usually shipping. Amazon sellers — and a surprising number of cross-platform eBay sellers — have long enjoyed the benefits of Fulfillment by Amazon (FBA).
A Fulfilling Experience
With FBA, sellers ship products directly to Amazon to be stored in the company's nationwide network of warehouses. Amazon then takes charge of picking, packing, and shipping sold items; they also provide customer service, i.e., sending tracking info and handling post-sale inquiries, returns and refunds. That's a big load off your shoulders!
Not to be outdone, eBay is launching what some sellers are calling "Fulfillment by eBay". Its real name is Managed Delivery. Like FBA, Managed Delivery will fulfill orders placed via other online marketplaces as well as on their own platform.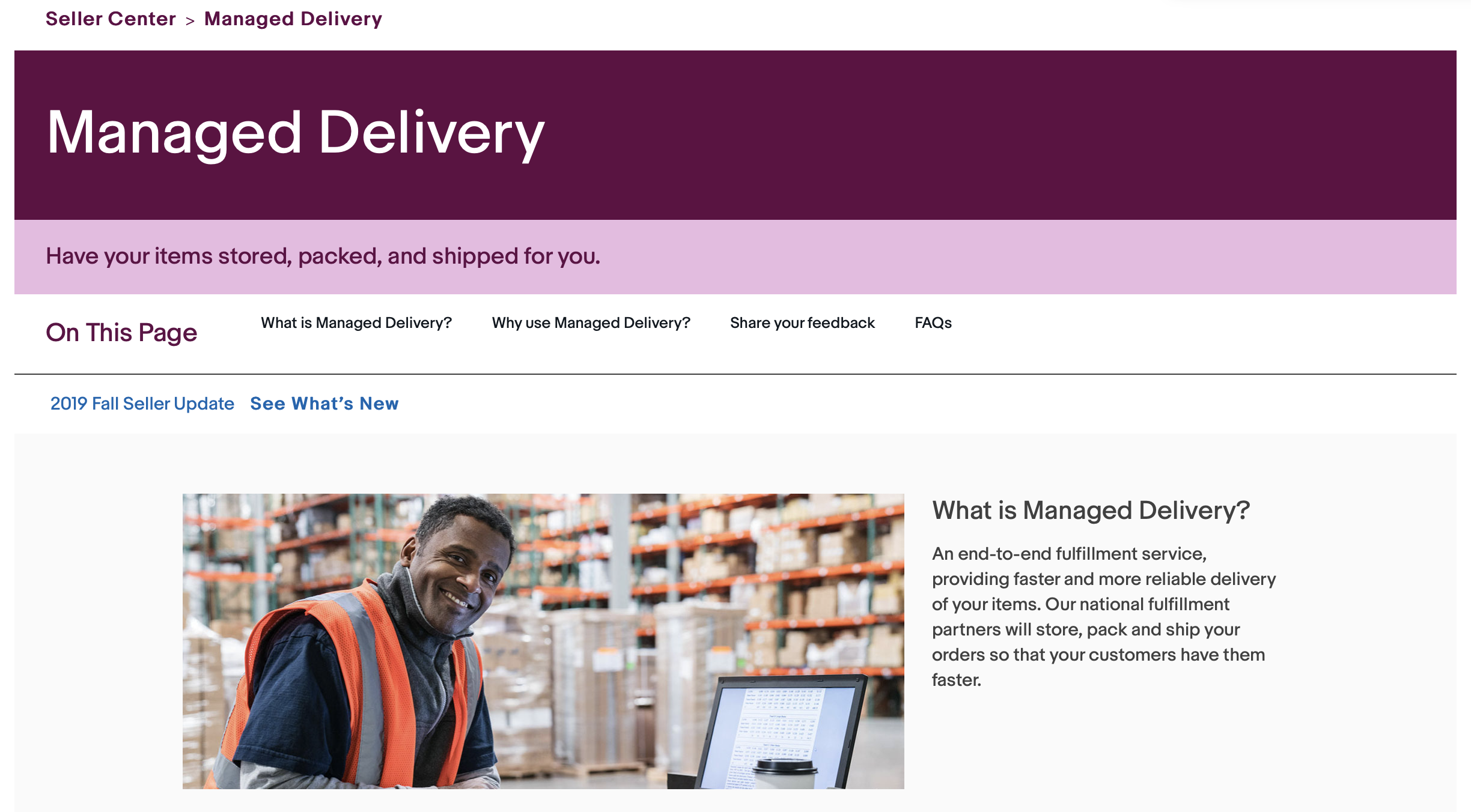 However, true to eBay's tradition of being "just a venue", the company is outsourcing this end-to-end fulfillment service, partnering with trusted logistics partners to warehouse, pack, and ship sellers' items while eBay handles customer service.
Managed Delivery was introduced earlier this year as a pilot program. It's not for everyone. According to the eBay Inc. blog, "The initiative will enable sellers with high-volume inventory to meet rising consumer expectations while reducing cost and complexity."
In other words, if you sell a lot of widgets, you can stash those widgets in various strategic locations across the country, reducing shipping costs, delivery times, and the number of headaches in store for you.
What's in It for Whom?
How does Managed Delivery stack up against FBA? That remains to be seen, because eBay's new program is slated to roll out in 2020. Here are some points to consider.
FBA items are eligible for Amazon Prime two-day shipping as well as free shipping. There's no minimum; send the company as few or as many products as you like. Amazon charges for storage space and for each order fulfilled, including the cost of shipping.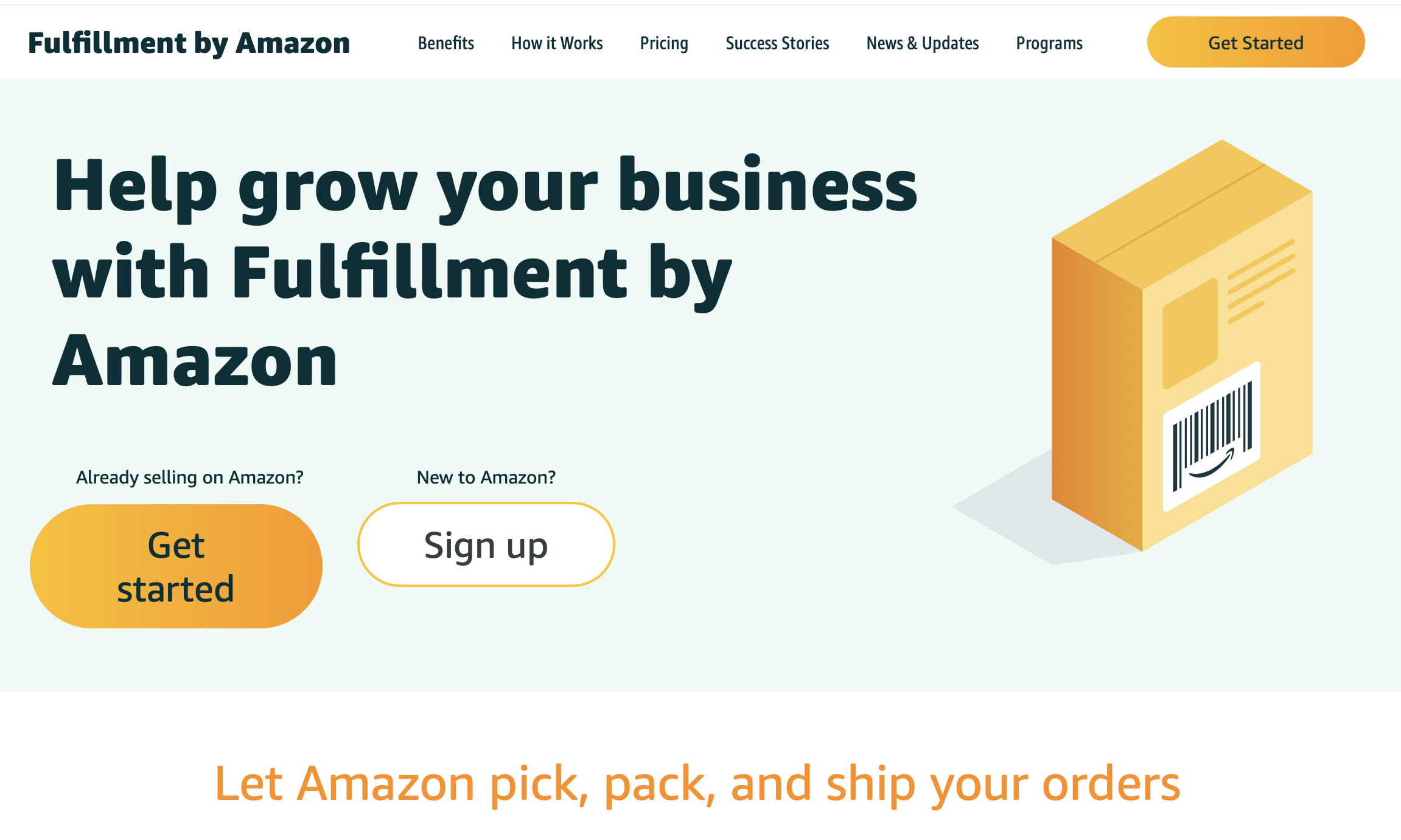 Depending upon the time of year, a cubic foot of storage space may cost as little as 69¢ (January-September) or as much as $2.40 (October-December). Order fees start at $2.41 for an item weighing less than 10 ounces. For example, a T-shirt in size Large will have a shipping weight of 11 ounces and incur a per-unit storage fee of 40¢ plus a fulfillment charge of $3.68.
By contrast, at this point eBay is serving up a fair amount of pie in the sky. Managed Delivery is "the third pillar of eBay's ongoing evolution" into "a more managed marketplace", with the first two being the eBay catalog and Managed Payments. The company promises benefits for both sellers and buyers:
Benefits for Sellers
Lower fulfillment costs
Enhanced seller protections
Faster, simpler shipping
Increased visibility in search
Savings on storage space and expense
Benefits for Buyers
Speedy delivery
Quality branded packaging
Reliability (100% tracking
Prompter customer support
For eBay, the benefits lie in being able to offer a more uniform delivery model and thus a better (or at least more predictable) shopping experience. In addition, with 1.5 million items shipped by eBay sellers every day, the proliferation of eBay-branded packages on front porches nationwide will "enhance eBay's brand identity as a popular consumer shopping destination", according to the corporate blog.
For high-volume sellers of commodity items on eBay, Managed Delivery is designed to be a win-win-win, just like Fulfillment by Amazon. eBay is currently working with several logistics partners and will determine which partnership(s) to retain as they scale Managed Delivery site wide.
No word on pricing yet other than that it will be "industry competitive" and "announced closer to launch".
The Bottom Line
Amazon has always been a managed marketplace where sellers are expected to toe certain lines, whereas managing eBay sellers is more like herding cats. Small wonder that eBay Inc. has embraced Managed Delivery as a way to homogenize the platform's buying experience! Meanwhile, small sellers will continue to deliver the quirky goods that make eBay unique and wonderful.
If you're looking to grow your ecommerce business, delegating fulfillment duties to Amazon's
FBA
and/or eBay's new
Managed Delivery
can literally pay off, big time.
Want tips + tricks?
Join the Newsletter