Listing products on eBay is one of the most important sales strategies for many online retailers across the globe. But you probably know that already.
After all, eBay is the 11th most popular website in the US and the 41st most popular in the world.
That being said, I won't tell whether or not you should use eBay, but how you should use it properly.
It all comes down to the quality of your product images and how you optimize your product listings.
With that in mind, today I'll show you why you need six images to do the trick when it comes to supercharging your eBay image SEO.
How SEO works on eBay (and why you need it)
Optimizing your eBay listings to become relevant for eBay's search engine algorithm – Cassini, if you're an SEO nerd– is fundamental if you want your products to reach your customers.
But how do you actually optimize your product listings?
Well, for starters, eBay's search engine is similar to Google's.
In both cases, a search query will show up multiple versions of the same product or duplicate content.
Kind of like this: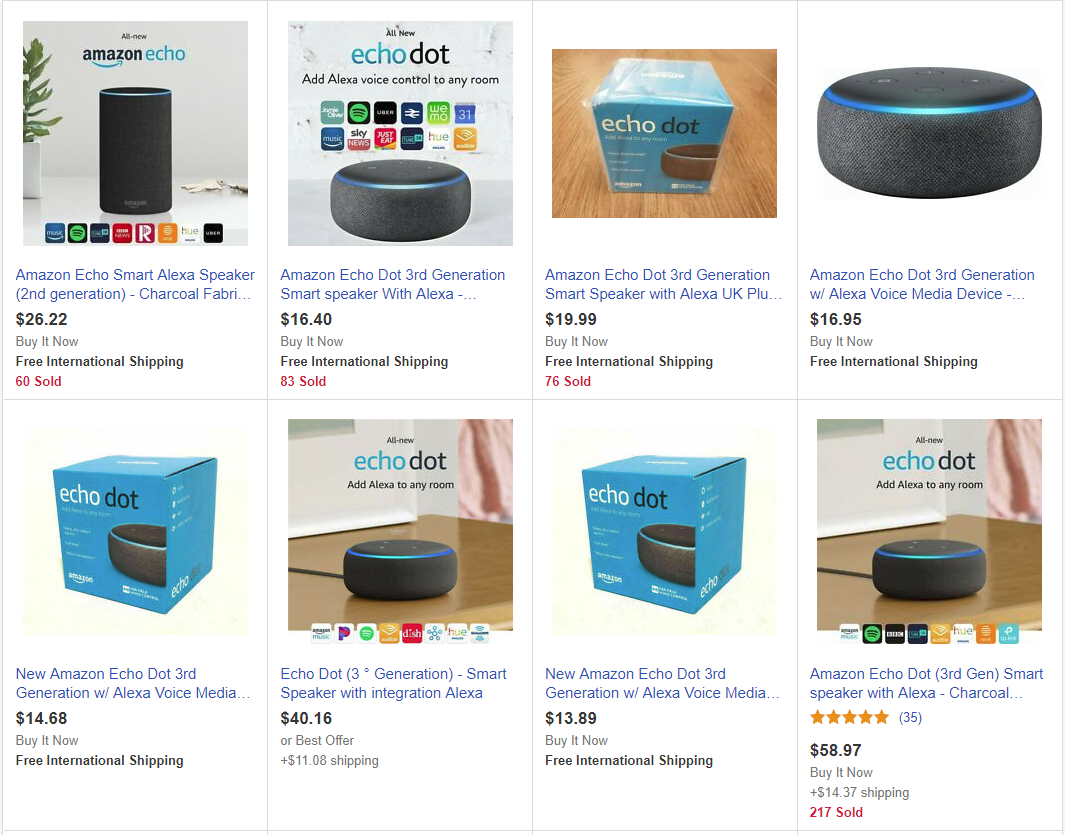 Unlike Amazon, where each product links to a listing, eBay lists all the products separately, which is why SEO becomes so important if you want to outshine your competitors.
At this point, if you've been around for long enough, you've probably heard that SEO is all about "keywords", but that's not entirely true.
Keywords are important, but they're just a fraction of SEO.
Cassini, eBay's search engine, does take keywords into account, but also looks at how relevant a product really is.
To do this, eBay's search engine asks if this is what the buyer is looking for, if there is enough relevant information and if the product listing educates or entertains the buyer.
For that reason, if your product is displayed near the top of the search results, it's because your product listing is valuable and accurate to the buyer.
To become relevant for eBay, you need to:
Optimize the image alt-tags
Make the buyer experience easy
Have a record of satisfied customers
Provide value to potential customers
Show shoppers that they can trust you
Why meeting eBay's image requirements is so important
There are 1.2 billion image listings on eBay.
That's a lot!
Which is why meeting the requirements is critical if you want to rank high and improve your sales conversions.
Also, we believe awesome product photography can make the difference when it comes to selling your products on eBay.
Before a potential buyer even reads your product description or looks at the price, they make snap judgments based on your product images.
Here are a few tips you need to take into account to make sure you're meeting eBay's requirements and optimizing your image SEO.
Ebay's image requirements include that the primary image must show the product and nothing else, that you can add a maximum of 12 images to your listing, and that your images show a real representation of what you're selling.
On the technical side, make sure you don't upload images smaller than 500 x 500px or larger than 12MB. Also, stick to the regular image formats like PNG, JPEG, or GIF to avoid issues.
Also, don't include borders, watermarks, nudity, text, logos, or any other information that you can write in the product description.
If you fail to comply with eBay's image requirements, you will not only hurt your image SEO but also get your content flagged and penalized.
Why add at least 6 images and not 12?
Although there are many perks to online shopping, nothing compares to being able to physically see and touch the product you're buying.
For your photos to be able to sell your products, they need to clearly show what you're selling. Only then, your customer will be confident in what they're buying.
eBay allows you to upload twelve product images to your product listings, but do you really need twelve images to make your product stand out?
Include enough angles for the customer to see what the product looks like from all sides: front, back, sides, etc. Note that if the sides or front and back of the product are the same, you don't need to include what looks like the same photo twice.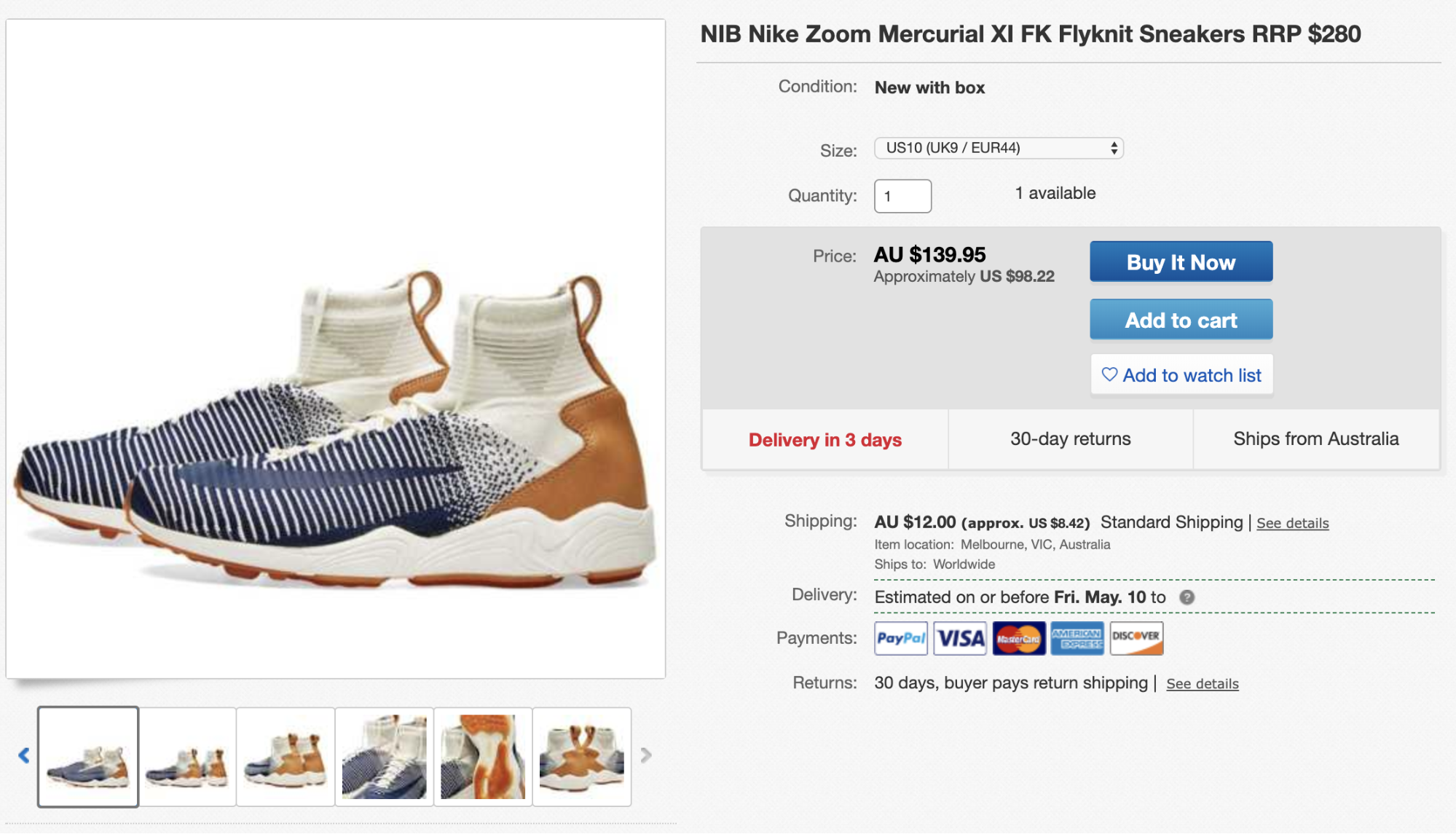 This listing on eBay includes 6 photos of the shoes from different angles including a close up of the sole and details of the material.
Unless your product has a very specific function, chances are your buyers won't really look at the entire carousel.
That's why we came to the conclusion that you need at least six photos to optimize your eBay product listings.
Why?
Simple. Let's say you're selling a pair of shoes.
You need an image of the front, back, and both sides. That makes four images. You should have one of the shoes (or product) in situ so customers know how it looks and how it could be styled. You also need a close-up image showing the texture and details of the product.
But it's possible that your customers also want to see a top view of the toe and a picture of the sole.
Remember that more than an object, you're selling an experience, and since your buyers can't touch the product, you have to help them feel it.
How to optimize your product images for eBay
Never forget that having high-quality product images is the key to increasing your eCommerce sales.
So, how you use eBay properly?
It all comes down to the quality of your data and how well you optimize it --and your most important piece of data on eBay are your images.
Remove the background and place your product on white
A white background captures the colors of your products better. So, if you're photographing your products, get a photography sweep to make sure you get your product's true colors right. If you don't have a sweep, you can easily build one or hire a service to remove the background of your product photography.
Add relevant alt-tags to your images
If you write your own HTML for listings, be sure you include alt-tags.
These are the keywords that accompany and describe your images to search engines. For that reason, this is another opportunity to optimize your keywords or phrases when they're relevant to the image.
Luckily for you, inkFrog's listing tool can help you manage this.
Optimize your product images for the zoom function
Shoppers want to see what the product really looks like. Most shoppers want to zoom in and take a closer look and the fabric and texture of the item.
Your images need to be large enough for them to see the details
Instead of a pixelated blob. Try using images larger than 1000 x 1000px and you'll be fine.
In conclusion…
Getting your eBay image SEO right takes time and practice, but once you get it right, the results will bring you countless benefits.
Start by optimizing your product descriptions and your images and see what your competitors are doing because you can probably steal a tip or two from them.
When it comes to optimizing your images, just remember that product photography does take a bit of practice and that it'll take some time to get into a routine of shooting and editing.
Don't be discouraged if your results aren't perfect the first time, and make sure you keep a note of what works and what doesn't.
But, above all, have fun!
Author Bio
Holly Cardew is the Founder of Pixc, a platform to help eCommerce stores edit and optimize their product photos so they can increase sales. Pixc turns average product images into beautiful ones by editing and removing the background within 24 hours.
Starting out as a teenager, selling on eBay and creating her own online marketplace, Holly has a background in eCommerce, online marketing, graphic design and building distributed teams.
When Holly is not working, she loves traveling, exploring new places, great design, eating and coming up with new business ideas.
Want tips + tricks?
Join the Newsletter